If a picture paints a thousand words, than a picture by Jason Chin paints a million.
Jason Chin is the author and illustrator of the acclaimed books Gravity, Island: A Story of the Galapagos, Redwoods and Coral Reefs and he illustrated Water is Water, by Miranda Paul. He lives in Vermont with his wife, also an author and illustrator, Deidre Gill.
Jason's latest book, Grand Canyon has just been published, and has earned multiple starred reviews. His previous book, Gravity was a 2014 Gryphon Honor Book (from the Center for Children's Books) and Island: A Story of the Galapagos, won the 2013 Gryphon Award.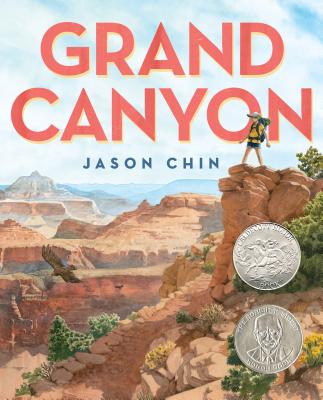 In its starred review, School Library Journal called Grand Canyon an "outstanding introduction to one of the world's greatest outdoor wonders, with much to offer elementary students about Southwestern biomes, sedimentary geology, and the profound pleasures of observing nature." Grand Canyon is technically and artistically wondrous with perfectly placed die cuts that show how a fossil today was a creature much long ago, a spectacular double gatefold, an intricate map and extensive back matter. While it looks and is the size of a large picture book, the target age group is 7 to 12 years old. "Chin's straightforward, lucid text seamlessly integrates concepts and scientific terms in engaging paragraphs full of surprising information, all of which is beautifully complemented by the illustrations," from the Booklist magazine starred review.
The current crop of nonfiction books for children are stellar, and Grand Canyon is at the pinnacle. Parents and teachers will appreciate the publisher-created Teacher's Curriculum Guide for use with Common Core State Standards that presents strategies for engaging readers before, during, and after reading Chin's books. It also provides an extension strategy to further students' understanding and enjoyment of the books.
Not only is Jason a talented author and illustrator, he is immensely open to sharing his art and process with students and everyone. Grand Canyon will be a great book to have if you are going to the Grand Canyon, have been to the Grand Canyon or want to go to the Grand Canyon. I don't think that leaves anyone out!
(Editor's note: Jason Chin will present Grand Canyon at the Vermont Book Shop, Saturday, March 18, 2 p.m)